Please Wait! While We Locate Your Device...
Make sure your Gamepad Controller is plugged in!
Gamepad Controller detected Successfully!

Please Wait! While We Locate Your Device...
Make sure your Gamepad Controller is plugged in!
Online Gamepad Controller Test
If you need to test your controllers for malfunctions or failures, you can use this online gamepad controller test to do the job quickly.
Moreover, you can comprehensively monitor the status of your controller device on this tester.
Now you can also use the gamepad viewer to monitor the functions of your controller device visually.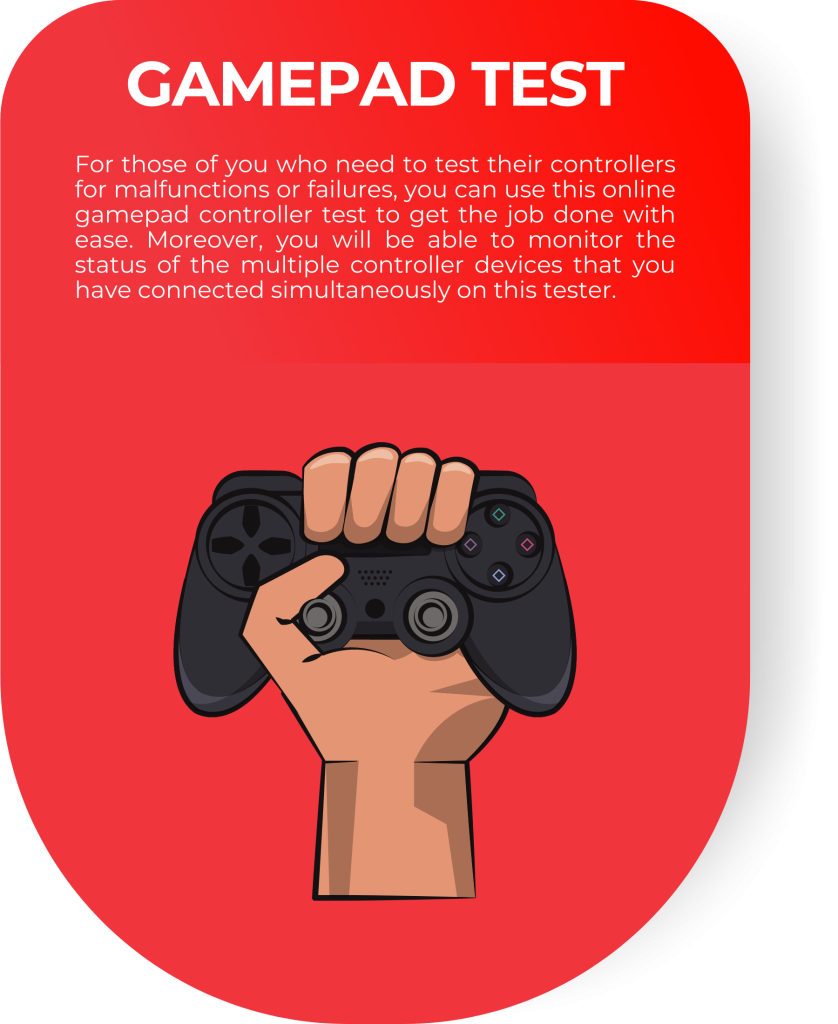 Debugging and Testing Gamepads Online
If you're a gaming enthusiast, you probably have a comfortable and, most importantly, well-suited controller to your needs. But, if it stops working for some odd reason, it is not an easy task to test your device.
Mainly, it is likely that you will need to download third-party software to test your device that might not support your controller in the first place. But with the advent of this fantastic gamepad tester, you can quickly get this job done online with minimal effort.
Moreover, this online tool will help you efficiently debug broken gamepad controllers and other input devices of the same nature.
Features of this Gamepad OR Joypad Test
This remarkable test is exceptionally rich in features.
Most Importantly, it uses the HTML5 Gamepad API to report the status of your wired or wireless controller device. Moreover, you can also use the gamepad viewer to observe your controller's impressions visually.
In addition, this tool demonstrates the current state of your gamepads, joysticks, and other supported input devices of the exact nature when connected.
First, with this amazing test, you can easily test multiple gamepad controllers in one go, as it simultaneously supports testing various devices.
Secondly, this test will showcase the name of each controller connected after successful detection. So you can easily observe each controller individually.
Moreover, each connected device is assigned a unique index number and connection status so you can easily track it.
Meanwhile, the test also demonstrates the timestamp for each function of your controller whenever it is triggered.
In the meantime, some other unique functionalities of your controller you can test on this website are:
Pose
Controller Haptic Actuators Test
Hand
Display ID
Note: Specific browsers do not widely support a few of these functionalities or are not functional due to limited or no support from browsers and operating systems. So bear with us and be patient if some functionalities do not result in adequate outcomes.
Finally, you can observe the functionalities of different buttons, including trigger and shoulder or bumper buttons, along with the joysticks and analog sticks, including other inputs in this controller input test.
Additionally, this project is entirely transparent, as you can view its source code to see what is happening in the background without any worries.
Easy to Use
This test is designed to facilitate and serve the gaming community, so they can troubleshoot their gamepad controllers with ease.
Superfast Results
The superfast nature of this test makes it stand out. Anybody can use it; just plug your device in, and it will showcase results in an instant.
How to use this Gamepad Tester
This online test is quite simple and easy to use. Moreover, the design of this test is self-explanatory. So, simply connect your gamepad controller device to your PC, and it will showcase the current state of your device.
If your gamepad does not trigger this test to start, check your device connection and make sure it is intact, and try tapping on any of the buttons on your joypad to force it to work. Otherwise, restart your browser and ensure no other app uses your gamepad.
As far as testing is concerned, simply tap each button on your joypad and play with analog sticks while observing the demonstration on this test to verify each functionality of your device with minimum effort.
Follow the comprehensive video guide below for a better understanding!
FAQs
Is this Gamepad Test safe?
This Gamepad Test is safe and won't harm your computer. This site consists of an extensive database of gamepad devices that people can test to see if they work with games.
How to test gamepad sticks?
In order to test the gamepad sticks, simply move them around, and this test will showcase or replicate their movements on the graph so you can observe each action along the axis.
How to test input lag on a gamepad?
Observe the timestamp in this test to learn about the timestamp of each input from your gamepad. Meanwhile, if you are using a wireless controller, ensure no other electronic device is interfering with your connection. In the case of wired controllers, invest in suitable devices and ensure your monitor and PC are in sync for the best results possible.
How to test buttons on the gamepad?
This fantastic test has made testing buttons on the gamepad super easy. Simply connect your device to your PC, tap on each button, and observe the demonstration on the test to verify their functionality.